Personal Injury Overview
Your Case Step By Step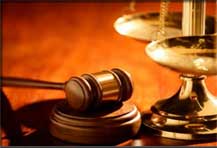 INTAKE PHASE
The intake phase begins with the initial consultation. I talk with you and gather information about you, the other parties, witnesses, and the facts of your case. From this information I determine whether or not I can help you. This consultation is completely free to you and may be conducted in my office or over the telephone, if you prefer. I may also come to you, if circumstances require it.

DOCUMENTATION PHASE If you want to hire me, and I agree to take your case, then you will be asked to sign a contingent fee agreement. That agreement will specify that I will take no fee unless and until I recover money for you. I will then begin to gather documentation and evidence, such as incident reports, medical records, employment records, insurance policies, photographs and more. You, along with other parties and witnesses may also give recorded statements that will serve as official accounts of events surrounding the facts of your case.
Note: You should never give a recorded statement before talking with an attorney.

DEMAND PHASE Once information and documentation is gathered, I will evaluate the information in order to assess the value of your case. Then, with your authorization, I will submit a demand to the other parties insurance carrier requesting they pay you the amount I have calculated to represent the fair value of your loss, or policy limits in cases where your loss is greater than the limits on the insurance policy. Sometimes the demand is made on more than one insurance carrier, including your own insurance carrier when there is insufficient coverage from the other party's insurance policy. If the insurance carrier agrees to pay the demand or through negotiations you decide to compromise your claim and settle with the insurance carrier, then your case will conclude with you signing a settlement agreement and a release and then receiving a check as compensation for your injury or loss.

LITIGATION PHASE If, however, my efforts to resolve your claim through submission of a demand fail to produce a settlement, then I will most likely file a lawsuit on your behalf. There may be circumstances where a lawsuit is filed even prior to the demand phase, but typically this would be done only after submitting a demand. The litigation phase begins with the filing of a Complaint in a court of law. When the other party files an Answer, I will then conduct discovery, which may include interrogatories, requests for production of documents, depositions and more. You may be asked to participate in mediation or compelled to participate in mediation, depending on the circumstances of your particular case. Mediation is a formal procedure designed to put the parties together with their attorneys in hopes of reaching settlement before trial. Should the mediation fail to produce a settlement agreement, then the parties would prepare for trial.

FINAL DISPOSITION PHASE Once your case has been settled or won and monies recovered, there are a number of matters that may require some attention. There may be liens against the money recovered and therefore certain liens and claims will need to be paid before the balance can be paid to you. You may choose to take your recovery money in a series of payments set up in a special annuity that earns interest and protects the money for your long term benefit. You may need to open a separate case in probate, if there is a need for a guardianship or conservatorship to have the recovered funds protected for the benefit of an incapacitated person. Whatever the case may be, I will guide you through the process and bring your case to its rightful and proper conclusion.
personal injury lawyer
Practice Areas

Information For Clients