The Insurance Game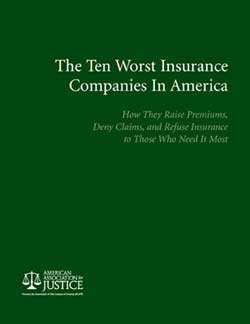 If you've been injured, chances are you will be dealing with an insurance company. You may be forced to deal with the insurance company of another party, your own insurance company, or both. No matter where you turn, if you're injured, you are likely to deal with an insurance company sooner or later.
Insurance is a wonderful concept, to be sure. It's all about spreading the risk and guarding against catastrophic financial loss. If insurance companies all played fair, the reality would live up to the dream. Unfortunately, there are a lot of bad eggs in the insurance industry, and the dream all too often turns out to be more of a nightmare. That is because there are many people in the insurance industry who place profit above all else.
The following article by a personal injury attorney in Washington State describes the findings of the American Association of Justice in a report they titled "The Ten Worst Insurance Companies in America. If you find yourself making a claim against a policy issued by one of these insurance carriers, or any insurance company for that matter, you should take immediate action to hire an attorney to protect your interests.
The Ten Worst Insurance Companies in America Richard H. Adler, Attorney At Law (Seattle, Washington)
In July 2008, the American Association of Justice (AAJ) named "the ten worst insurance companies in America." The criteria employed to be awarded this dubious honor was an exhaustive study of the number and nature of denial of claims, premium increases, and refusal to write insurance policies requested by consumers.
The list of the ten worst insurance companies is as follows:
1. Allstate - Allstate's concerted efforts to put profits over policyholders has earned its place as the worst insurance company in America.
2. Unum
3. AIG - One of the world's biggest insurers, on September 16, 2008, Federal authorities effectively seized control of AIG, with an $85 billion bail-out.
4. State Farm - Insures approximately one-fifth of the passenger cars in America.
5. Conseco
6. WellPoint
7. Farmers - It is the third largest insurance group in the US servicing more than 10 million households in 41 states. Farmers Group Inc. is a wholly owned subsidiary of Zurich Financial Services of Switzerland.
8. United Health
9. Torchmark
10. Liberty Mutual - It is the fourth largest property and casualty insurer in the United States based on 2008 direct written premiums.
The AAJ report details the wrongful and questionable strategies and tactics of the "ten worst" companies. These abusive behaviors included raising premiums; changing the content of policies without notifying policyholders; use of a combination of lowball settlement offers and hardball litigation tactics; purposeful delaying of claims to increase the likelihood that the claimant gives up pursuit of fair settlement; systematically violating state insurance regulations; fraudulently denying or low-balling claims using phony medical reports, policy misrepresentations, and biased investigations; and use of all manner of tricks to deny or delay claims, including locking checks in a safe until claimants complained; delaying payment of attorney fees until they were a year old; disposing of important correspondence during routine "pizza parties"; and routinely fighting claimants for years in court over mundane claims.
Although the AAJ report was issued in July 2008, the offensive and wrongful behaviors of the insurance industry continue to the present. The best defense against insurance company abuse is the continued exercise of citizen rights in the civil justice system.
In 2002 Gallant Insurance was put out of business after being shut down by a Cook County, Illinois Judge in response to a bad faith claim filed against it by one of its own policy holders. This case demonstrates the importance of fighting back.
Practice Areas

Information For Clients
If you do nothing else… HIRE A WARRIOR!

Why?
FACT:

1. If you have been injured you will almost certainly be dealing with an insurance company.
2. Insurance companies (even your own) will take advantage of you, if you let them.
3. Insurance companies know which lawyers are willing to go to trial and which lawyers have too many cases to spend time in the courtroom.
4. Insurance companies are more likely to treat you fairly when they know you're represented by a trial lawyer who will take your case to trial.
If you want to be fairly compensated for your loss, hire an experienced aggressive trial lawyer. Hire a WARRIOR!